Current Contents
Vol. 1 (2023)
Mini Review
HTML downloads: 1

PDF downloads: 14
Review Article
HTML downloads: 3

PDF downloads: 18

HTML downloads: 6

PDF downloads: 59

HTML downloads: 4

PDF downloads: 33
Inaugural Editorial
PDF downloads: 34

HTML downloads: 7
View All Issues
About Journal
Metabolism and Translational Medicine (MTM) is a peer-reviewed and open-accessed journal and aims to promote the translation of emerging knowledge and technologies into new methods of metabolic diseases, and bridge the knowledge gaps at the junction of preclinical research and medical applications. Metabolism and Translational Medicine provides a forum for communicating the epidemiological, etiological, mechanical, management methodology, and other special articles related to all aspects of metabolism. Specifically, we welcome systematic reviews, meta-analyses, and original research articles, focusing on clinical and translational metabolic research. Research with strong translational potential is prioritized.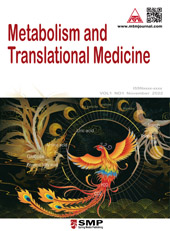 ISSN: 2958-8081 (Online)
Distribution : Open Access
Frequency: The journal is published in an Open Volume Mode.
Published by: Scholar Media Publishing